March 3rd at 7:00 PM
Zoom Meeting: Wild Pig Pilot Project & Research Update
The presentation: Wild Pig Pilot Project & Research Update
What is a wild pig, and are they really in Ontario? Erica will give a brief background on wild pigs in North America, and outline research findings from the ministry's recent work with this invasive species. She'll discuss why wild pigs are such a challenge for wildlife managers and what the MNRF is doing to prevent the establishment of wild pigs here in Ontario.
Erica Newton is an analytical biologist with the Ministry of Natural Resources and Forestry. In her role as a research biologist with the Wildlife Research and Monitoring section since 2013, Erica has worked on various projects focusing on wolves, coyotes, bear, deer, long term snow patterns and disease ecology. Erica enjoys all aspects of being a biologist – from working in the field to finding creative new ways to collect, analyze and present data. She is currently working with the landscape ecology team to conduct a pilot project to study wild pig distribution and management in Ontario.
A link to join this presentation will be sent through the Orillia Naturalists' Club Membership & Email list. Please email to be added to the list: orillianaturalists@gmail.com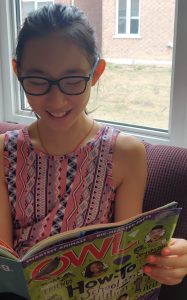 Nature Book of the Month

The Orillia Naturalists' Club is excited to announce the Nature Book of the Month Program!
And we need your help to make it a success.

We will be highlighting a new book every month that is nature-related and sharing with club members. The posting will include the book title and author, a short review (no more than 400 words please) and information on where the book is available.
The review will be found on the 15th of each month under activities.

We are looking for volunteers who have read (or will be reading) a book to contact Nancy (nancy.ironside@sympatico.com ) to coordinate the timing of the recommendation and review and answer any questions you may have.

We will try, if possible, to give some notice of book recommendations upcoming so you can join in by commenting – like a virtual book club!

Our third book (June) is recommended by Mary Mick, Life Member, and she will be reviewing "Inheritors of the Earth" by Chris Thomas.
Our fourth book (July) is recommended by Mark Bisset, Executive director of the Couchiching Conservancy and he will be reviewing "Never Home Alone" by Rob Dunn.
Our Fifth Book (August) was Thoreau's Walden, reviewed ( and not recommended) by Nancy Ironside ( Life member)
The September book was Catherine Parr-Traill's "The Backwoods of Canada" reviewed by Carol Strickland, our ONC secretary, in the format of a letter to her Aunt Catharine. Entertaining.
Our October Book is "How to Catch a Mole, by Marc Hamer", reviewed by Heather Ewing, Membership  for the Orillia Naturalists' Club. She enjoyed it.
In November, Kyra Howes of Nottawasaga Valley Conservation Authority, and a mother of 3, has chosen several nature books for children, that you might want to give as Xmas presents. Shop now. Santa's helper was very useful
The December Book  is "The New Wild -Why invasive Species will be Nature's Salvation" by Fred Pearce. This controversial concept is summarized by Nancy Ironside, and Ron Reid will do a rebuttal.
Unless someone offers to review a favourite book they are reading , there is no January or February Book.. 
The February Nature book of the Month is Spillover, animal infections and the next human pandemic by David Quamman, Reviewed by Nancy Ironside
The March Nature book of the Month will be Nature's Best Hope, a new approach to conservation that begins in your yard, by Douglas W Tallamy. It will be reviewed by Sharon Hancock, long time member of the ONC, and famous for her dinners, (with the help of Ron).
We hope someone will offer to review a book they are reading.

Happy Reading everyone!
At recent meetings, Rob Laidlaw has spoken about Bat Citizen, Mike Burrell about his book Best Places to Bird in Ontario, and Peter Mills about his book -Metamorphosis -Ontario's Amphibians at all stages of development. Since these books have been summarized, under activities, in the meeting's reports, they will not be a future Nature book of the Month.
Find us on Facebook for updates, sightings and more: