JANUARY MEETING
Tuesday, January 18, 2022 at 7:00 p.m.
The Zoom link is sent to the membership list. If you would like to be added, please email orillianaturalists@gmail.com
Our speaker is Peter Thoem who lives in Burlington, Ontario and his presentation is entitled "The Owl Foundation – A Fly-by-Night Organization"
Since retirement in 2010 Peter has dedicated a lot of time to projects related to wildlife and natural areas. He volunteers on numerous projects at the Royal Botanical Gardens including spearheading a multi-year bird population study. Peter has also volunteered many hours and days at bird observatories in Ontario and Central Asia and in Kenya and Uganda on wildlife survey work. In late 2016 he took on the role of speaker ambassador for The Owl Foundation.
Peter maintains a daily blog. My Bird of the Day – Ontario Birds, Ontario Birding and my best bird of the day
The Owl Foundation – A Fly-by-Night Organization.
This 40-50 minute slide presentation is targeted at a well-informed naturalist club type of audience and looks at the Vineland-based Owl Foundation and its work rescuing and rehabilitating injured and orphaned owls.
It started in the late '60s with Kay McKeever rescuing almost any injured or orphaned animal. Eventually she and husband Larry developed a focus on owls and other raptors. Now, fifty years later, the Owl Foundation with its three full-time staff receives and treats more than a hundred owls a year.
The presentation looks at the mishaps (mostly man-made) that befall owls, the treatment and care they receive at the Owl Foundation, the foundation's successes and some losses. It looks at what was learned from the big Snowy Owl irruption in the Polar Vortex winter (2013/14) and the Great Gray Owl irruption of 2004. It includes many great photos of owls both while receiving treatment and unrestricted birds in the wild.
—————————-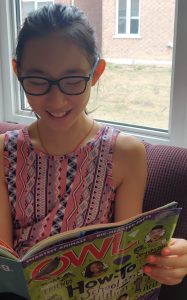 Nature Book of the Month

The Orillia Naturalists' Club is excited to announce the Nature Book of the Month Program!
And we need your help to make it a success.

We will be highlighting a new book every month that is nature-related and sharing with club members. The posting will include the book title and author, a short review (no more than 400 words please) and information on where the book is available.
The review will be found on the 15th of each month under activities.

We are looking for volunteers who have read (or will be reading) a book to contact Nancy (nancy.ironside@sympatico.com ) to coordinate the timing of the recommendation and review and answer any questions you may have.

We will try, if possible, to give some notice of book recommendations upcoming so you can join in by commenting – like a virtual book club.
.
The March Nature book of the Month is Nature's Best Hope, a new approach to conservation that begins in your yard, by Douglas W Tallamy. It is reviewed by Sharon Hancock, long time member of the ONC, and famous for her dinners, (with the help of Ron).
The April Nature Book of the Month is Braiding Sweetgrass: Indigenous Wisdom and Knowledge and the teaching of plants, by Robin Wall Kimmerer. It is reviewed by Kyra Howes of the Nottawasaga Conservation Authority and a long time friend of the ONC and the Couchiching Conservancy. ( look under activities)
The May Nature Book of the Month is The Entangled Life- How Fungi Make our Worlds, Change our minds, and Shape our Future, by Merlin Sheldrake. It is reviewed by Sue Deadman, probably our best all round naturalist . It can be found under activities.
The June Nature Book of the Month is Under a White Sky; The Nature of the Future, by Elizabeth Kolbert. It is reviewed and enjoyed  by Heather Ewing, an avid reader and very active in the Orillia Naturalists' Club.
The July Nature Book of the Month is Underland by Robert Macfarlane. It is reviewed By Mark Bisset, Executive Director of the Couchiching Conservancy.
The November Nature Book of the Month is Jungle Peace by William Beebe. It is reviewed by Nancy Ironside. It was published in 1918, in a different era, but full of adventure and natural history. I loved reading it.
We hope someone will offer to review a book they are reading.

Happy Reading everyone!
At recent meetings, Rob Laidlaw has spoken about Bat Citizen, Mike Burrell about his book Best Places to Bird in Ontario, and Peter Mills about his book -Metamorphosis -Ontario's Amphibians at all stages of development. Since these books have been summarized, under activities, in the meeting's reports, they will not be a future Nature book of the Month.
Find us on Facebook for updates, sightings and more: