Wednesday April 1, at 7:30 pm at OMAH
NATIVE BEES,by Ginny Moore , of Uphill.
This meeting has been cancelled due to fears of Corona virus.
Now we have 2 confirmed speakers for next year
In the original programme Jean Iron was to speak. She had to cancel but will return to us in next year's programme.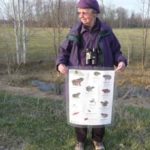 Mondays in April 6:30 p.m.
Outings: SIGHTS AND SOUNDS FIELD TRIPS
Contact: Muriel Sinclair (705) 325-7359