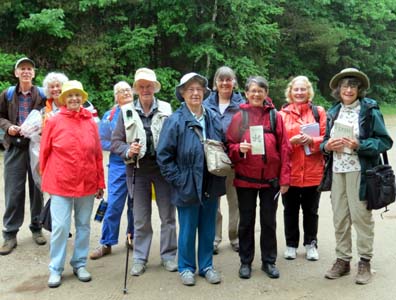 Eagerly starting out
The weather forecast was bad – rain, wind, etc. but 10 people turned out for the Fern walk anyway. We met at the 4th Line parking lot. After looking at 2 fern guides – Ferns of Northeastern North America (Peterson Series 2nd Edition) and Ferns of Grey and Bruce, and also some information about ferns in general we headed out along the 4th Line Trail.
Within a short distance we had found our 1st fern – a Spinulose Wood Fern. We continued down the 4th Line Trail until we came to a side trail which goes along the top of the river valley. The next section of the trail went along the Ganaraska Pond. We continued along a loop that took us back to the side trail. The final stop was at a wetlands near the railway tracks for our last 3 species of ferns – Bublet, Marsh and Crested Shield Ferns.
When looking at fens the pace of the walk is slow; It took us 3 hours. Many of the ferns are exacting in their habitat requirements, and the Copeland Forest, with its wide variety of microhabitats creates a unique place for different species of ferns to thrive. The many trails provide opportunities for people to enjoy and study them. Many fern-nurturing habitats were encountered – wetlands, edges of streams and ponds, mature forests with both coniferous and deciduous trees and also rotting logs. It is a fern paradise.
The participants were given a list of ferns and we were able to find all 19 species on the list. Thank you to everyone who came. Fortunately the weather was much better than the forecast.
| | |
| --- | --- |
| | |
| A red eft, enjoying the weather | Learning to identify ferns |
Text by Pat Woodford and Margaret Kennedy.
Photos from Heather Ewing and Barb Ryckman