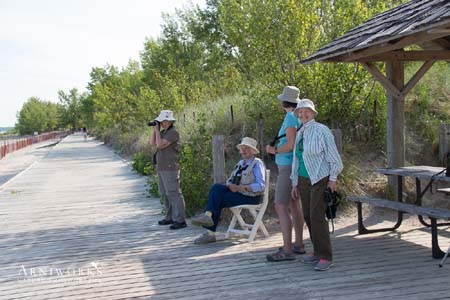 Luxury Viewing

| | | |
| --- | --- | --- |
| | | |
| | A plethora of Plovers | |
| | | |
| | What does the future hold for  these balls of feathers? | |
| | | |
| Probable female: They share nesting duties | Probable male: | About 10:30, when we were leaving, the sun was hot and this bird was panting with her mouth open, and hovering over the nest, shading it, and allowing air to circulate. |
Leanore Wiancko sent us this report:
Ten of us left at 8 by a fast route to Wasaga via Horseshoe to Crossroads rd. to 92 and in to the Beach. Volunteers told us that 5 couples nested out of 18 adults there, with one nest washed out. 3 hatched and one to hatch this Friday.
We saw 2 nests full of babies running around. One set was born Friday and Saturday so were still little puffballs on legs. I saw 7 babies and 4 adults and we learned that males have a darker orange beak, no break in the middle of the black neckline and the eye line goes right to the corner of the eye.
I couldn't find that in any of my bird books so learned something new. This year they have closed off access to the beach at the waters edge as babies feed there regularly. I have been visiting there since June 17,2008 and it is amazing how these birds have thrived. 2 males and one female who were born there last year are parents this year and, as well, 2 pairs are breeding at Darlington and 2 at Sauble Beach. Thanks to the wonderful volunteers.
You can see more of the plovers on Facebook. Type in Piping plovers.