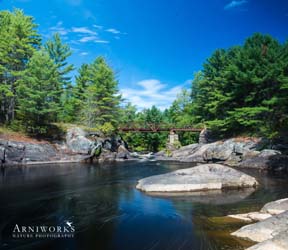 Victoria Bridge
Leader and trip reporter Sue Deadman
24 people woke up to sunny skies, packed their lunch, camera and binoculars and met behind Zehrs at 9:30 a.m. making it the largest turnout for an ONC outing in years. We drove through Washago to Cooper's Falls and then followed Black River Rd. to our first stop at the sand flats on the Black River.
I delivered a brief history of the Queen Elizabeth II Wildlands Provincial Park and surrounding area.
(The history  can be found at my-washago.blogspot.com/2015/01/the-black-river-forgotten-valley.html)
Local resident Wendy MacDonald and her young daughter Olivia joined us there. She spoke of recent wildlife sightings that included a black cougar, moose, deer and bear as well as her discovery of the remains of an old schoolhouse and logging road.
We continued on to our next stop at the hidden lake. The water was calm as a kingfisher flew across it. From there we walked to a bog on Wendy's property then drove farther down the road to a floating bog. Cottongrass and young Tamaracks were seen growing in the dense mat of vegetation. Back in the cars once more and on to our lunch stop at Victoria Falls.
There a ! Big caterpillar was spotted. We went for a walk along the river where a heron and a red-shouldered hawk were seen. Pictographs were spotted on a large rock at the river's edge. Buttonbush and hobble bush lined the trail, as well as interrupted fern.
That brought the outing to a close. My thanks to Nancy and Heather for all their help in making this an enjoyable outing.
Sue Deadman
giving the background to the group
local resident Wendy Macdonald
surveying the scenery at the hidden lake
The floating bog, showing the young Tamaracks
cottongrass growing in the floating bog
Painted turtle basking
BIG  caterpillar near the lunch spot. Pine Imperial Moth
Rapids at Victoria Bridge
Victoria Bridge
Photos thanks to Arni Stinnissen and

Heather Ewing