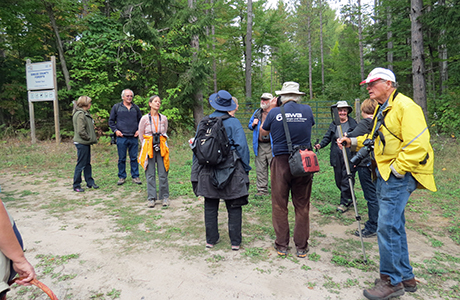 The group gathers at the north end of Cambrian Rd.
What was forecast weather-wise to be a dismal day for the Orillia Field Naturalists' outing to the Agnew Property turned into a most perfect fall day for a field trip. One can only ask, "Was Ron Reid, our leader, responsible for this?"
Ron led our group of 21, including two descendants of the Agnew family, into the Agnew Property the 'back' way starting off through the Simcoe County Forest from Cambrian Road, a surprise for those members who didn't follow us from the Zehr's parking lot but went on their own from the canal side of the property.
We did see a few birds including solitary sandpipers, spotted sandpiper, yellow-rumped warblers, chickadees and a small flock of rusty blackbirds. Good spotting Pat Woodford! Along the walk Ron highlighted some vegetation showing the difference between red oak and white oak leaves, explaining why hobble bush is called hobble bush, pointing out other plants like wintergreen, Indian Cucumber-root, some shrubs and ferns. There was a good variety of mushrooms which Barb Ryckman was busy collecting for later identification.
Thank you Ron and Janet for a most enjoyable outing.
Flagging tape guides the group from the Simcoe County Forest to the Agnew Conservancy property
Indian cucumber-root
Ron Reid with winter berries
Barb Ryckman collected mushrooms,
which were later identified –
23 to species, as well as 6 to Genera.
Janet Grand, Pat Woodford and Barb Ryckman follow the trail
Solitary Sandpiper with the white eye ring
| | |
| --- | --- |
| | |
| Migrating Rusty Blackbird feeding in the mud flats |  The trip is over |
Text by Heather Ewing, Photos by Heather Ewing and Dianne and Arni Stinnissen