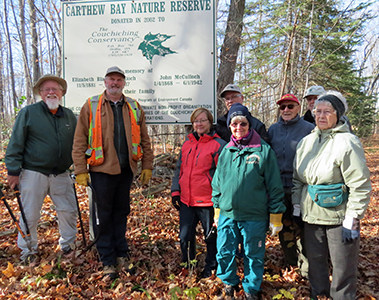 On Wednesday, November 9, 2016, an eight member work party from the Orillia Naturalists' Club met David Hawke at the Lakeshore Road entrance to the Carthew Bay Nature Reserve to establish a trail through the property.
Present were Arni and Dianne Stinnissen, Muriel and Alec Sinclair, Omer and Mary E Mick, Bill Sherwood and Heather Ewing. With loppers and clippers in hand the crew followed and cleared the trail which Dave flagged.
After the initial clearing, the group went around the trail again with Dave pointing out some of the fauna including a large butternut tree.
The Orillia Naturalists have volunteered to be stewards of this property for the Couchiching Conservancy.
| | | |
| --- | --- | --- |
| | | |
| Bill Sherwood and Arni lopping | Omer Mick and others | Mary E Mick |
| | | |
| Dianne Stinnissen | Dave Hawke with the Butternut tree | Alec Sinclair |
Photos and text from Heather Ewing