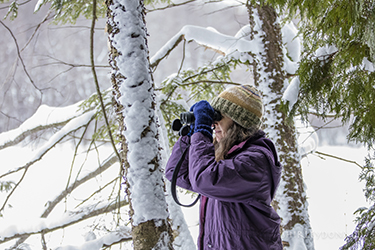 Sue Deadman, scanning the mill pond above Marchmount.
For 55 years the Orillia Naturalists' Club has organized the Orillia Christmas bird count. The results are reported to Bird Studies Canada and become part of the North American records, so trends can be seen. There are about 10 people who have participated in the count for all 35 years.
There was heavy snowfall Friday night (December 17), and this made the driving difficult, although all 9 teams (32 people) had the use of all- wheel drive vehicles with snow tires, so the each team was able to sample about 70 Kilometres by car. Fortunately there were no road incidents. Some feeder watchers gave us lists of their species, and this added to the data.
We assess a territory inside of a 25 Kilometre circle, centred on Bass Lake, so it includes areas in Severn Township, Oro-Medonte, and a small part of Mara. Lake Couchiching was frozen, even at the narrows, but Lake Simcoe provided many flocks of ducks, and the dump yielded its usual good collection of gulls.
53 species were recorded for a total of about 7698 individual birds – about low average for most years. No new species were added, but three birds had new highs: Greater Black- backed Gulls at 132, with a previous high of 118 in 2001, Red-bellied Woodpeckers were found by 5 of the teams for a total of 6 birds. The previous high had been 3 in 2009. 14 Bald Eagles were found, mainly at the Landfill site. Previously high was only 3 in 2001. 2 Goshawks were sighted, and one was photographed by Arni in the field. We also had 3 Sharp-shinned Hawks, 3 Cooper's Hawks,1 Northern Harrier, and 10 Red-tailed Hawks. Other birds of note: Robins 15, Eastern Bluebirds 4, 2 Owls – Great Horned and Barred, and 7 Snow Buntings feeding in a field and 3 House Finches and 4 Purple Finches were sighted.  2 Evening Grosbeaks were seen during count week.
Because of the deep snow most birds tended to congregate at feeders, and the Wild Turkeys were seen mainly in trees. The winter finches were disappointing. There were 204 Goldfinches (the previous high was 559 in 1994). There was heavy cloud cover, increasing the difficulty to spotting. The teams in Severn Township found the birds scarce, but the teams in the south end of the circle had rich rewards.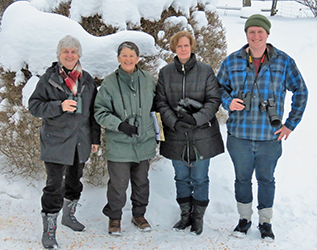 The Bass Lake team: Heather Ewing, Fern Splichal, Carol Anne Hastings and Matthew Kitchen.
2 teams sighted Goshawks, a fairly rare bird for us,
but Arni was able to take this amazing photo.
Most of us have never seen one soaring
so beautifully.
Trees at the Orillia Landfill site, loaded with Starlings, and at least one Bald eagle is visible
Following the count in the field we met at OMAH for the potluck dinner.
Heather Ewing, her daughter and 2 grandchildren, (Laura, Matthew and Emma Kitchen),Fern Splichal and the Hastings.
Ron Reid, Janet Grand , Peter Hayward
and Marilyn Clark -the most northern team in the circle.
Ron Reid chaired the tally.
He first paid tribute to the many members who had participated in the count in the last 35 years,
many of whom are no longer with us.
9 people reported from the teams, and  we found we had 53 species of birds, with over 7000 individuals.
(Joan Rosebush, Vicki Sherwood, Muriel Sinclair, Adam Thomson, Pat Woodford,
Leanore Wiancko, Marilyn Clark, Sue Deadman, and Heather Ewing.)
Photos from Shirley Donald, Heather Ewing, Bill Sherwood and Arni Stinnissen