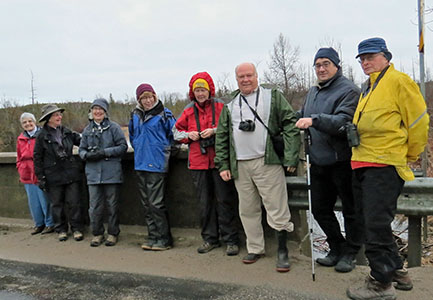 We always need to go prepared for April weather. It rained off and on through the day but not much as we walked.
The ice is still hugging the ponds and lakes and water birds wait in anticipation of more than streams to meet their swimming and feeding needs.
A lovely Great Blue Heron posed for us at the edge of Brough's Creek. Great flotillas of debris from the shrubs and banks were drawn into the little whirlpools as they were moved about by the fast water. The beaver have made some repairs to the dam but more will be needed.
One of the special things about a rainy day is the colour. The field by the trail had a stunning display of Red Osier Dogwood. We really missed our friend Gordon to help us identify a strange tree that had speckled bark on the small twigs and a rather rusty orange smooth bark on the larger branches. Anyone??
The male Red-winged Blackbirds were gathering in the marsh. As we walked back to the cars we were delighted to hear the "peent" buzz of the American Woodcock. He was very close, walking around in the grassy field, hoping to find a female. He didn't do his mating dance in the air but did fly off across the field. Maybe next time. 
Spring is definitely here. The frogs are singing, The Osprey are just returning and the ducks are in the field wet areas.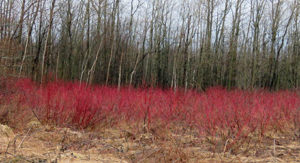 Great Blue Heron                                                                                                                             Red Osier Dogwood