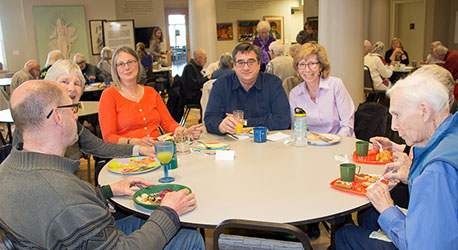 The AGM was chaired by Denis Paccagnella, President , who thanked the executive and commented on the excellent activities and speakers we have enjoyed this year. Arni Stinnissen, Vice President  gave a summary of the upcoming events. Nominations for the Executive- – the incumbents agreed to stand again this year, Heather Ewing agreed to take over membership coordinator, which she had been doing on a temporary basis.
Treasurer's Report – Donald Macdonald provided a summary of revenues and expenses for the fiscal year end of Mar. 31, 2017, Hehn-Trickey will prepare the tax returns and statements, and will do so at no charge to the Club.
Ontario Nature Rep– Sue Deadman. It was noted that Bird Studies Canada is about to band their 1 millionth bird at the Long Point Bird Observatory. "Pat Woodford banded the first bird in the LPBO database, a Song Sparrow, at the Tip of the Pint on April 2, 1960". Sue reported that the The York Simcoe Naturalists hosted the regional meeting this spring.  13 clubs attended the meeting, represented by about 50 people. Jessica Isaac , from the Environmental Commissoner of Ontario, shared information on the tools of the Environmental Bill of Rights, and how to use them effectively. Following this Mike Cadman, from Bird Studies  Canada, shared information about their new initiative called Can Bird. Their goal is to complete an archive of Canadian Bird records within the E-Bird network. He is particularly interested in bird sightings before 2000, especially before 1970, which the clubs may be able to access from contacts with older members or their families.
Social – Warren Ryckman reported that the coffee fund has been robust, and allowed for the purchase of some mugs etc.
Publicity and Web – Denis Paccagnella reported on the potential migration from the current Couchiching Conservancy-hosted website to our own website supported by Helix IT. Barb Ryckman and Nancy Ironside will be meeting with Helix IT in the near future to discuss details. We may be able to conclude the migration by August.  We will maintain a link with the Couchiching Conservancy, who have hosted our website to date.
Membership coordinator – Heather Ewing reported that there are 38 family memberships, 25 individual memberships, 5 Life Members and 6 members under 30 (who pay no fee).
The meeting concluded with slides from members Leanore Wiancko ( her trip to New Zealand) David Thompson ( mostly Florida), Arni Stinnissen ( mostly Arizona), and a medley of the years' club activities, compiled by Kevin Binsted, and set to music.
| | |
| --- | --- |
| | |
| Denis Paccagnella announcing which table gets first choice for the pot luck. | Barb Ryckman, Past President, is hoping for volunteers for the Executive |
| | |
| | |