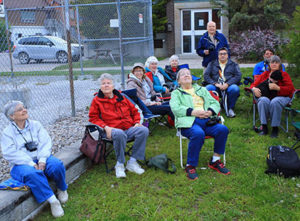 We joined Leanore Wiancko and Kay Price to watch the chimney swifts.
We met in the Orillia Public Library parking lot at 8 p.m.  and watched the chimney at the Opera House.
Last year we met on May 10th and saw no swifts, just the chimney.
This year 45 swifts circled for some time before they tunneled into the chimney at about 9 pm.
That was much more fun than last year.
Howard Black took these photos of the swifts near the chimneys -views that are closer than most binoculars will show. We usually think of them as black flying cigars, but this shows that they are 2 toned.  Thank you Howard!
In the following photos you can see that at least 2 are going in head first – what they do in the chimney we can only guess, but they come out head first.