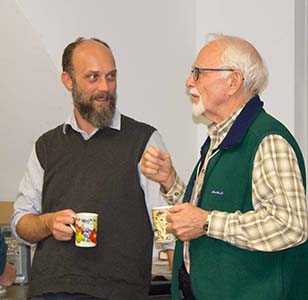 On Wednesday November 1st, Dave Ireland spoke to the Orillia Naturalists' Club
on the topic: Climate change and whale poo.
Dave was just as interesting as his topic was intriguing.
He grew up in Huntsville and spent many years exploring nearby Algonquin Park, then a stint at the Toronto Zoo. He is now Managing Director of Toronto's Royal Ontario Museum Biodiversity.
He had spoken to our club about 10 years ago, when he worked at the Toronto Zoo. At the time, he was especially interested in how to protect Salamanders, and he founded the Road Ecology Group.  He learned that photos of dead frogs and salamanders on the road, did not engage the public as much as healthy living amphibians, with their eyes looking at you, near the road.
At the ROM he has become passionate about marketing science. He found that scientists were talking to each other. He is trying to help scientists tell their stories to those who have not previously been interested.
For example, Doug Currie is passionate about Black flies –he is the world authority on Black Flies. He has been " marketed " by Dave. Doug is now out on the floor at the ROM, interacting with visitors.
Dave has done this with many other scientists, so people can learn of all the research that is being done at the ROM. Dave says the public will not support what they do not understand.
He has also initiated (in 2011) the idea of a Bioblitz at the Rouge, which is a public programme to involve the people in Toronto. Some scientists work alone to collect information (the intensive programme), some experts and citizen scientists guide groups out in the field to teach them about their special interests, and sometimes tables are set up, so that the public can see what has been collected.
This has produced many interesting results. For example, a Lichen survey had not previously been done. Dr Troy McMullin found that lichens were common at the Rouge (Toronto). Since lichens are an indicator of air pollution, why are they so common near Toronto?
A Bioblitz allows interaction with the public; about 4000 people have attended in Toronto and about 900 in Mississauga.
What about the whales and how is their poo vital to our ecosystem?
The ROM was able to bring a Blue Whale, which had died and was beached on the Saint Lawrence, to their display area, (although it spent a year decomposing in their facility in Trenton). Many photos showed the problems of transporting this huge mammal to their display area,
but the result is a spectacular display.
All whales are endangered, and in spite of a moratorium on their hunting since 1966, 99% are gone. But they are vital to our ecosystem.
Blue whales dive hundreds of feet to eat krill, 400 million in a single mouthful, from the bottom. But as mammals they must return to the surface to breathe and there they release their poo, among the phytoplankton. Phytoplankton, growing on the surface, can photosynthesize from the sun, but it also needs nutrients, provided by the whale poo. The phytoplankton in the ocean, contributes more to photosynthesis than all the trees on the land.
This is part of the circle of life.
Dave has initiated an Environmental Visual Communication course at the ROM for graduate students, and he demonstrated this ability to the Orillia Naturalist' Club.
Coffee Break
Students in Mr. Cole's class are conducting
their own research into a wide range of local
and global environmental issues,
such as the palm oil industry,
the impact of climate change on equine health,
natural resource extraction, source water
protection and Orillia's tree canopy.
David Ireland  and Jeff Cole surrounded  by a group of students from Mr. Jeff Cole's
Grade 12 Environmental Studies class at Patrick Fogarty C.S.S. who attended the meeting
Attending the club's meeting presented
an excellent opportunity for students to meet
and network with an experienced group of
environmentally conscious citizens,
several of whom were able to provide
the students with additional information
and ideas for their projects.
Photos by Dianne Stinnissen