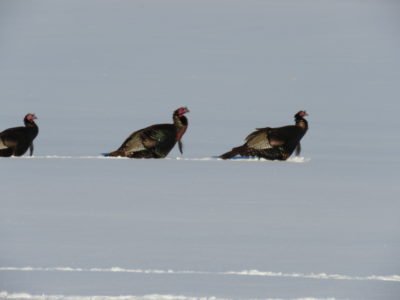 Since 1981 members and friends of the Orillia Naturalists' Club have been documenting a sampling of birds, found in a circle, 25 kms in diameter, which centres on Bass Lake. People, divided into 9 teams, scour their area for the day, then return to a potluck supper, at OMAH, followed by the "Tally", (which we take very seriously). It is more fun to find birds on the count day, but we also include " count week birds", which are those seen within 3 days before of after the big day. We want to know which and how many birds are in the area. Although the first count was started on Christmas Day in 1900, as an alternative to hunting, we now call it "Citizen Science", (with all its inadequacies). The counts each year are influenced by weather conditions, but over years, trends can be assessed. Data is submitted to Long Point Bird Observatory.
This year 51 participants struggled through the snow to reach the teams' meeting points, then, had reasonably good driving conditions, except in the City. Barb Jones was challenged by Orillia's infamously unploughed roads. Many locations where there were feeders had snow blowers clearing out the driveways. This chased away the birds, so that we had to return later. Some feeder watchers gave us lists to add to our sitings.
There was very little open water – Lake Couchiching frozen to the narrows. Bob Bowles and his group enjoyed the "black birds" and the variety of gulls at the dump.
The food at the Pot Luck was exceptional.
Tally was fun, as each group called out their numbers. We were amazed at how many new highs became apparent.
Thanks to all the participants.
:
55 species Highest count was 63 in 2001.
Total birds  -5083
New species: Lesser Black-backed gull
Red-headed Woodpecker
New highs: Mute Swan 10 (previous high 4)
Bald Eagle 7 (previous high 3)
Iceland Gull 4 (previous high 3)
Greater Black-backed Gull 135 (previous high 118)
Red-bellied Woodpecker 4 (previous, high 3)
Downy Woodpecker 61 (previous high 53)
Merlin 1 ( tied, 1 had been seen a previous year)
Brown Creeper 6 ( previous high was 5)
Dark-eyed Junco 171 ( previous high was 104)
Notables:
Great Horned Owl
Snowy Owl ( count week)
Hawks -1 Sharp-shinned
2 Cooper's
2 Red-tailed
1 Rough-legged
a group of 24 Pine Siskins calling. These were the only
finches seen other than goldfinches.