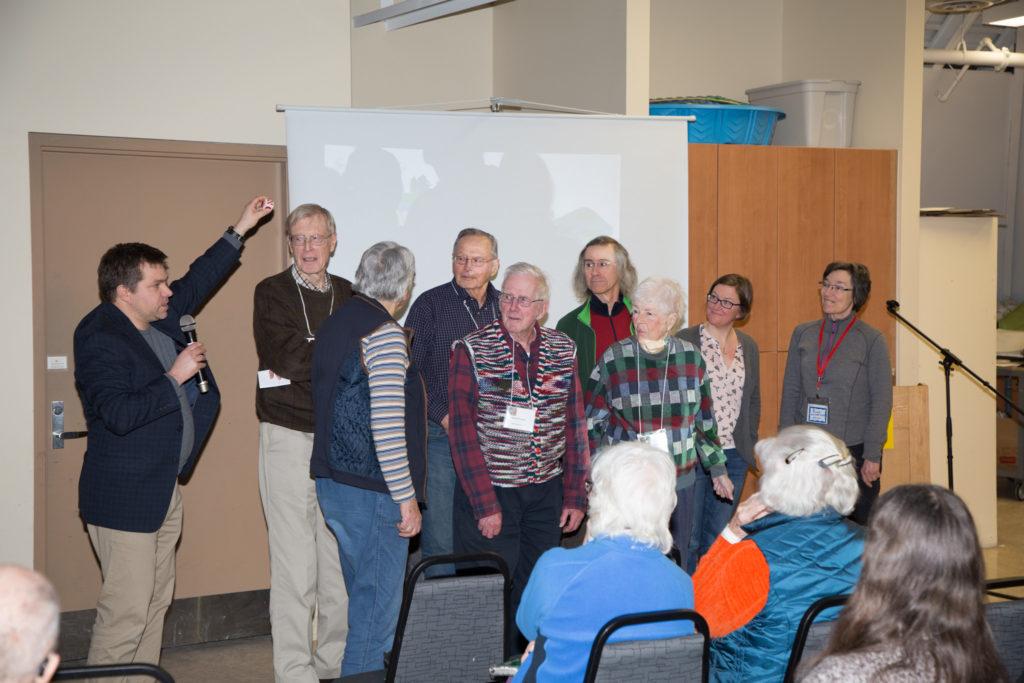 In the above photo Ryan demonstrates the flow of water, using members of the club, sorted by height .
Ryan Post, Lead Hydrogeologist at the Nottawasaga Valley Conservation Authority, entertained the Orillia Naturalists' Club on February 7, 2018 with his wit and humour on several technical aspects groundwater.
Hydrogeology is looking at the movement of underground water, but above ground features
also impact the subsurface conditions.
Take for example the geological formation within Simcoe County.
Simcoe County has the Niagara Escarpment shaping the western edge, on the eastern edge are the hills
of the Oro Moraine. In the centre of this is a depression that has deep, percolating soils that have
become known as Minesing wetlands.
This formation actually has created an underground Chanel known as the
"Laurentian water system" that once allowed the flow of water between Georgian Bay and Lake Ontario.
Starting with the hydrologic cycle, the presentation examined the hydrologic relation to wetlands as flow through systems (e.g. fens), groundwater discharge systems (e.g. marshes), groundwater recharge systems (e.g. bogs). Ryan described what geological formations are generally expected to be present to create each of the wetland types.
In a recent study that Ryan completed, particle tracking was used to delineate time of travel of underground water to the wetland and then Ryan then reviewed the Minesing Wetlands from a hydrologic perspective and highlighted the connection to a groundwater dependent Species at Risk- the Hine's Emerald Dragonfly (HED), of which Chris Evans gave a comprehensive overview of its biology and life cycle. The dragonfly (HED) has very specific habitat requirements and are found only in the eastern portion of the Minesing Wetlands fens in Canada. The larval form of this dragonfly burrow in crayfish holes to avoid drying out during summer drought conditions.
Delving even deeper into the concepts of hydrogeology, he discussed the concept of particle tracking/groundwater flow movement and described the recharge and discharge relationships as it related to the critical habitat of the cross-referenced it geochemically to monitoring well sites throughout Minesing Wetlands.
| | | |
| --- | --- | --- |
| | | |
| Mark Bissett from the Couchiching Conservancy thanks Ryan | | At the coffee break |
| | | |
| | Dianne Stinnisen  provided the coffee and snacks | |
| | |  Thanks to Arni Stinnissen for the photos. |
| | | |