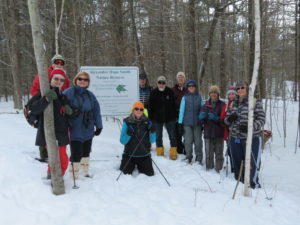 Sunday, February 18, 2018 9:30 a.m. – 12 p.m.

started with a bit of snow and –1 degree, but the day improved with some sun and +1 degree C. What a lovely day it turned out to be.
12 people, 3 of whom were from the Orillia Camera Club started on the Alexander Hope Smith trail. Most of us walked because the trail was quite hard with just a skiff of snow.
We saw and heard the usual assortment of mid winter sights; snow fleas, chickadees, a white breasted nuthatch, and a crow, as well as rabbit tracks and old hornet nests starting to disintegrate. We also saw a few polypore mushrooms, one being the Fomes fomentarius, known commonly as the Hoof or Tinder Polypore.
Carol found a mystery tree with interesting reddish buds. Carol now calls it a Red Maple, whose buds swell in spring.
All in all, the morning was well spent, enjoying the mild winter day.
| | | |
| --- | --- | --- |
| | | |
| | Red Maple buds | Paper wasp nest deteriorating |
| | | |
| Springtails/ Snow fleas | Polypores on Birch | |
| | Trip leader and report from Barb Ryckman |  Thanks to Heather Ewing and Bill Sherwood for the photos. |