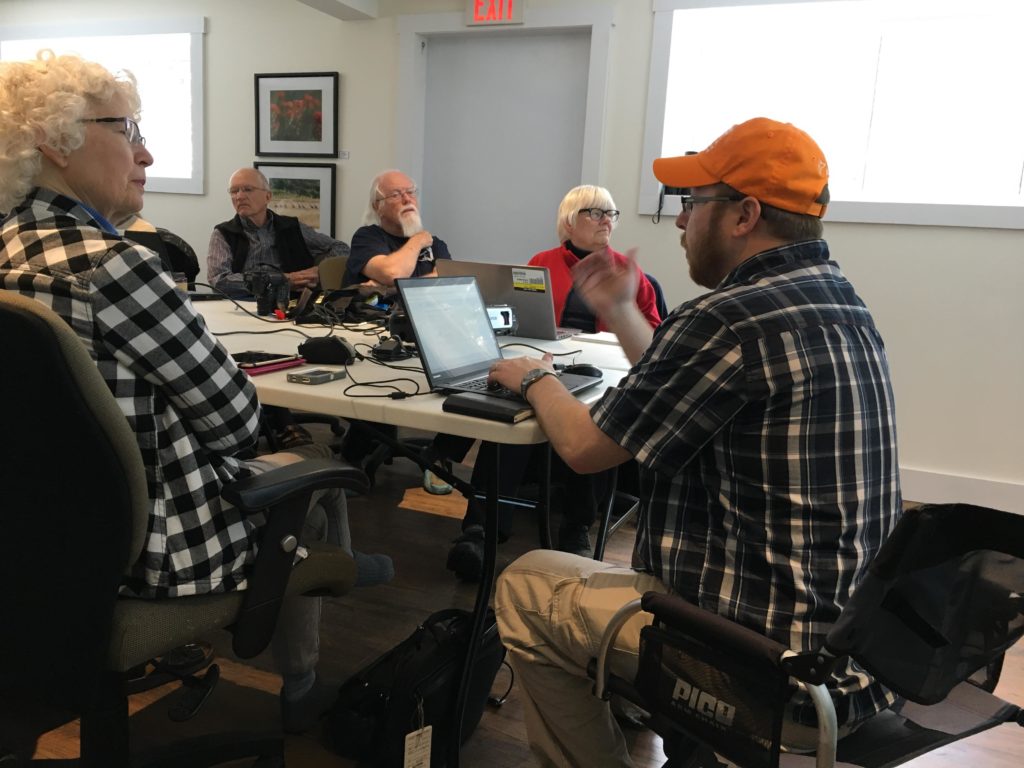 On March 7, 2018 Mike Burrell spoke to the Orillia Naturalists' Club March meeting at the Orillia Museum of Art and History and challenged those in attendance to become citizen scientists. He shared information about two very useful apps to use as tools for this endeavour.  While we were planning this years activities and this particular presentation, one of our more forward-thinking members suggested that maybe a workshop could be conducted the next day if Mike and his employer would be amiable to this.
Since citizen science has become more and more important, the databases of eBird and iNaturalist have become invaluable contributors to the study of nature in all its forms for local, provincial and federal scientists worldwide.  As the resources of governments become leaner, particularly in the areas of the environment, there is a void which technology and citizens can fill.
The workshop was held at the boardroom at the Couchiching Conservancy at Grant's Woods.  The invitation to attend the workshop exceeded expectations and members of the Brereton Field Naturalists, Midland-Penetang Field Naturalists and Orillia Naturalists' club were present and filled the room.
Mike went into great detail on how each of the apps worked with a home computer, Android and iOS devices.  Attendees were encouraged to create accounts so they could personalize their accounts and profiles.  eBird is managed by Cornell University in New York state and has partners around the world including Bird Studies Canada.  Based on his own personal sightings while traveling to Orillia, Mike demosntrated how to enter bird sighting data such as where the date and sighting was and what was seen.  Favourite locations are saved for future entry and new locations are easily created by using the 'Find it on a Map' feature.  Once eBird has the location, the most commonly seen birds are listed in taxonomic order and user easily finds the species and enters the number of birds.  There is also a feature where a user can upload an image as well which is accessible from the library of Macaulay Library at Cornell University.
The data from all the users can be accessed by anyone who is interested in a particular species in a particular geographical location during a particular period of time.  Hotspots, which are popular birding areas, are also available which has historical and recent lists of birds seen.  Mike also demonstrated the use of the bar charts which can help identify the best time when specific species have been seen in a month or calendar year.
iNaturalist was the second program Mike explored and demonstrated for us. iNaturalist has been initially slow to be used in Ontario but it has caught on with great interest and its growth rate is very encouraging.  While eBird is solely for the observation and reporting of birds, iNaturalist is more robust and accepts reporting of all living things including fungi, lichens, plants, mammals, herptiles and birds.  The data collected by citizen scientists is shared worldwide with scientific data repositories like NatureServe Canada, Canadensys and the Global Biodiversity Information Facility to help scientists find and use the data.
While eBird accepts reporting of numbers and names, iNaturalist encourages the uploading of images either by smart phone while in the field or back in the home office.  The artificial intelligence photo recognition software is often able to narrow down the subject to a few possibilities making identification easy for both novice and experienced naturalists.  Scientists from around the world that are members of iNaturalists are able to confirm identifications and those images become classified as research grade.
iNaturalist has many of the same features as eBird where a user can find specific species in specific areas.  In addition to those features, iNaturalist also has the ability to add a project to study a particular area and keep a biodiversity inventory.
Mike works for the Natural Heritage Information Centre which is Ontario's conservation data centre and it tracks the province's biodiversity.  iNaturalist has become an invaluable resource for that centre and Mike related a story about a teacher who found a previously unknown habitat of a rare crayfish.
Mike is an very engaging naturalist and his enthusiasm was very evident in a very successful workshop and it was well worth the time and effort all those who attended.  Many thanks to the Couchiching Conservancy for supplying the boardroom and the ermine that teased us from the bottom of the bird feeders!