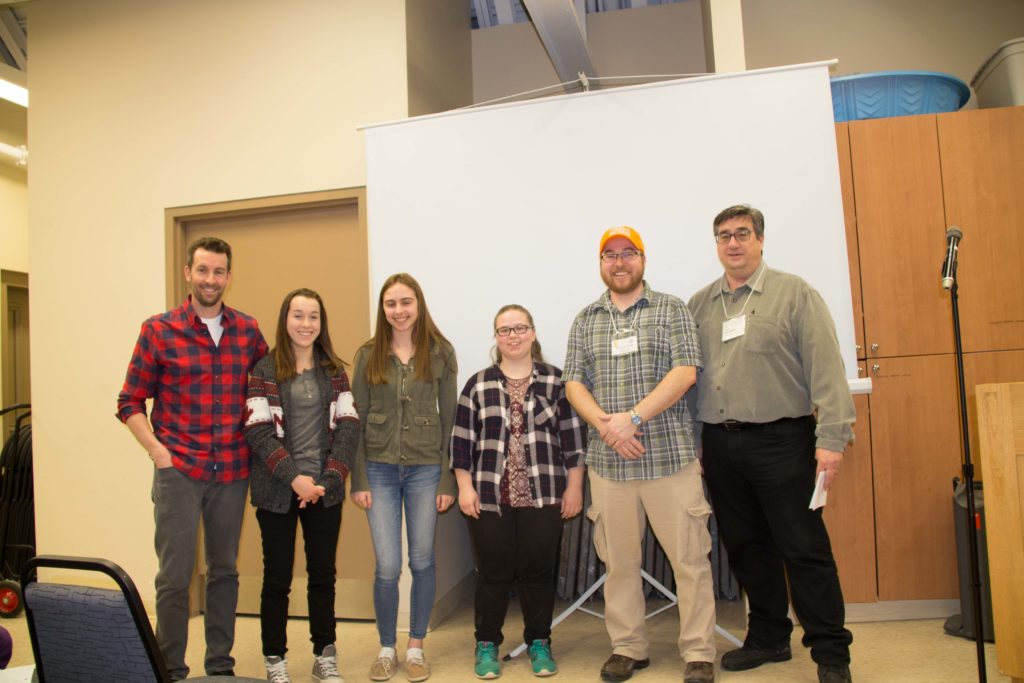 On Wed March 7 Mike Burrell spoke to us at OMAH.
The challenge is out to become Citizen Scientists and the Orillia Naturalists' Club recently heard about 2 very useful apps to use as tools for this endeavour. Mike Burrell, a Zoologist for Natural Heritage Information Centre in Peterborough, provided an excellent introduction to these two popular mobile softwares.
Mike, who describes himself as a keen naturalist (lifelong), uses the apps daily, and was a very apt person to present this talk. He described the networks that underlie the powerful data collection and manipulation, starting with the Natural Heritage Information Centre (NHIC), which works with conservation partners to track biodiversity. Beyond that is Nature Serve – a network of data centres, tracking over 70,000 species, 1600 eco-systems, and employing 1,000 staff in total internationally (20 in Ontario). The beauty of this coordination is that the same methodology is used across the Western Hemisphere. The goal is to track rare animals and plants, ultimately to be able to protect and sustain biodiversity.
Traditionally sources for this data have included museums, literature reports, field surveys (e.g. MNRF, Parks Canada, professional biologists with private corporations,) but as funding for these drops over the years, the contributions of Citizen Scientists becomes very important. With the advent and uptake of apps, in particular eBird and iNaturalist, the data has accumulated exponentially in the last few years.
Birds are important as bio-indicators, occupying all habitats, filling a variety of rolls in the environment and eBird began as a result of a joint project between Bird Studies Canada and Cornell Ornithology Lab, in 2002. It relies on individual birders going out into the field and using the app to record their checklists. Meanwhile, eBird then disseminates the information both to its associated organizations for professional interpretation and use, and back to the Citizen Scientist with a tally of his/her bird sightings as well as cumulative sightings.
Thus eBird (Global) is able to track all species, all year, with advanced geo-referencing (thanks to Smart Phones), and where previous surveys generally were not on private lands, now even private lands are being observed. It serves both beginner birders and advanced birders, alike. The beginner has checklists to reference for the area in which they are birding, telling them whether the bird they think they see has actually been seen there before, whether it is common or rare, and postings that are unusual are reviewed by experts. Friendly competition prompts even experts to continue to participate – to be posted as one of the "top 100 birders". Finally, research shows that users of eBird become better birders – presumably they are more disciplined in their identification, but they spend more time in the field with the fun of using eBird.
INaturalist is a more recent app, beginning in 2008, and it is also growing exponentially. It differs from eBird in that it tracks all species, plant and animal, not just birds, and maps the occurrence (time and location). Various groups can set up projects monitoring specific items – e.g. Rare Species of Ontario, to which individuals can contribute their observation. Like eBird, it is easy to use, and has several motivating features, including the competitive aspect. However, the community vets each posting – a posting needs 3 "agrees" to qualify as "research quality" – and there are some keeners who spend an hour a day or more just reviewing posts to "agree" or offer other suggestions. Also, the software strongly prefers some evidence of the sighting – a photo, or an audio clip – and with the photo, using photo recognition software embedded in iNaturalist, the software comes back with suggested identification – very helpful for the novice observer.
Mike fielded a number of questions after his presentation, and he assigned homework for the 20 naturalists who planned to attend his workshop the following morning, where he planned to delve more deeply into the use of these two fascinating softwares.
Sue Deadman had visited Algonquin Park in the previous week, had seen a huge number of Red  and White -winged Crossbills. She brought a road kill to the meeting, so we could all see the interesting beak formation which allows the bird to extract seeds from conifer cones.
| | | |
| --- | --- | --- |
| | | |
| Mike Burrell | | Ron Reid and Mike |
| | | |
| | Carolyn Paccagnella looks at the Red Crossbill, a road kill brought by Sue | Jeff Cole and Bill Sherwood |
| | | |
| | | Photos by Dianne Stinnissen |
| | | |