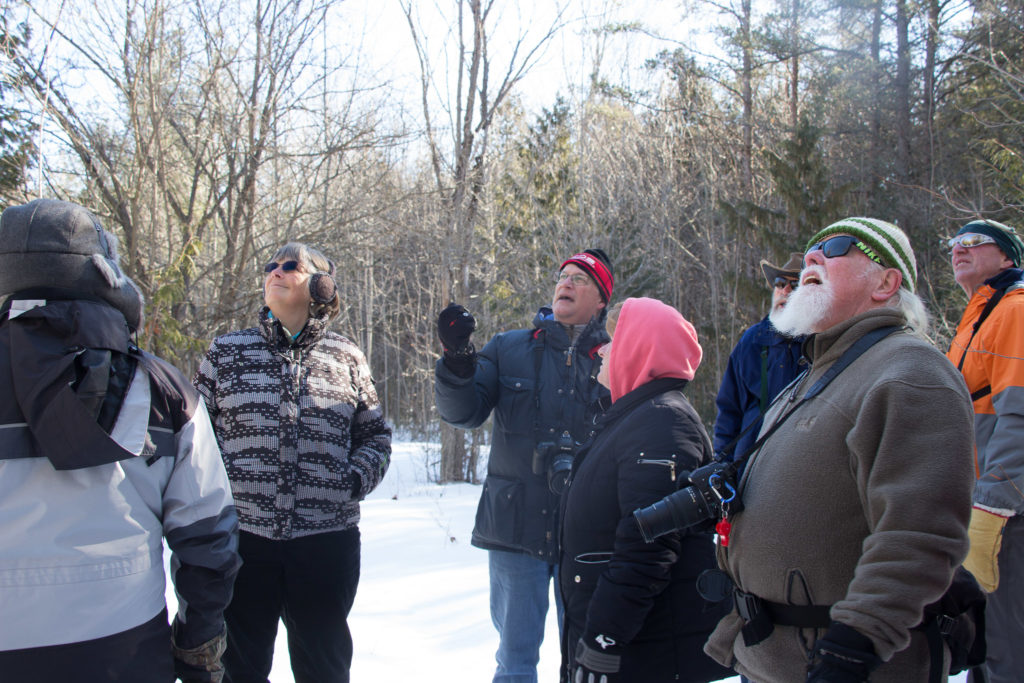 Beautiful blue sky and a very tolerable winter temperature of -3.5° greeted the 14 members of the Orillia Naturalists' Club at the Carthew Bay Nature Reserve on Sunday, March 4, 2018. The property team from the club is the eyes and ears for the Couchiching Conservancy and the team is responsible for keeping track of any improper incursions onto the property as well as its natural well-being.
The mild spells of this winter melted a majority of snow that has fallen this season leaving behind a nice crusty layer and all the snowshoes were left in the cars.  The property was serene blanketed in white with signs of the coming spring as was evident by the snow melt around the trees and the pussy willows. Arni noted an old jack pine branch, laden with serotinous cones that are covered with a resin, that must be melted for the cone to open and release seeds. When a fire moves through the forest, the cones open and the seeds are distributed by winds and gravity.
It was a great outing with friends on both the south side of the property and the north side which is adjacent to the Oro-Medonte rail trail.
| | | |
| --- | --- | --- |
| | | |
| Arni with a old jack pine branch | Snow Melt around the trees, a sure sign of spring! | Pussy willow is a name given to the furry catkins in early spring. |
| | | |
| | | |