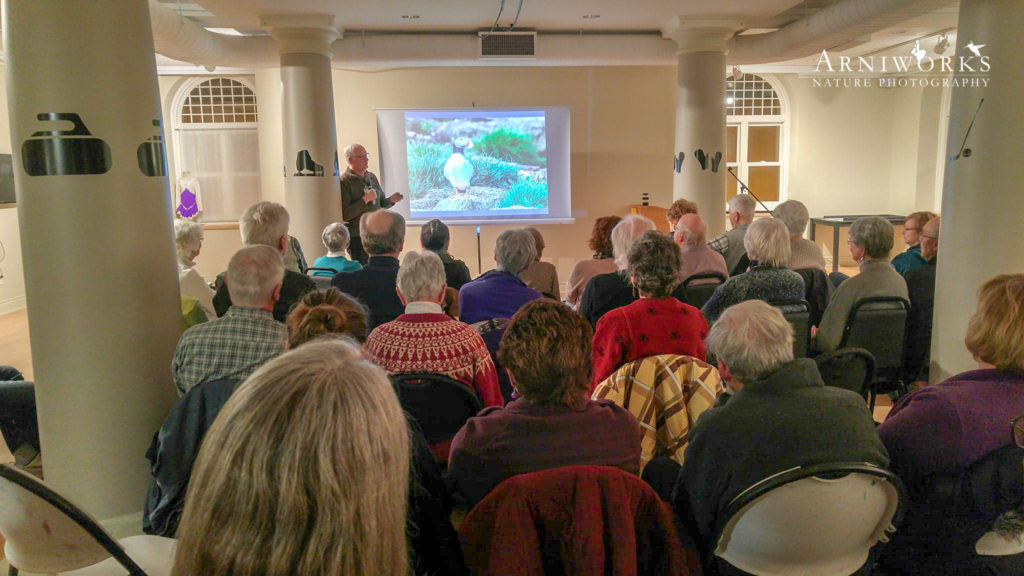 The Orillia Naturalists' Club had tough weather for the 11 people on our first spring nature walk, on Tuesday, April 3. The weather for Arni's Newfoundland presentation was even worse. Many club members were unable to travel to the meeting because of the freezing rain and high winds. Nevertheless there was a large turnout. Many were people who knew Newfoundland well and were reminiscing, others had visited and wanted to return, others were planning to go, and others wanted to be educated and enjoy. No one was disappointed.
Arni is a good speaker, a superb photographer, and an excellent naturalist. He had a well researched presentation and many fun gimmicks in his digital slideshow. We were all transported to another world, a" little piece of heaven" in our own backyard.
Last summer, Arni and his wife, Dianne, spent 42 days traveling in Newfoundland.
Their first stop was Twillingate, the iceberg capital. They were not disappointed. Icebergs were the size of large houses. However, since the harbour was plugged with pack ice, some of it broken from glaciers, down from the north, the tours could not run, the dories, lobster traps and fisherman all stayed ashore. Overnight the wind changed, the pack ice went out, and the fishermen and tour boats were in the water.
They then camped near Gros Morne National Park and made day trips. They spent 2 hours on the challenging trail up the mountain (and 2 hours down), being passed by many fitter folk.
A highlight was a boat tour to Western Brook Pond, a fiord formed by glaciers, which originally gave access to the Gulf of St. Lawrence until the land rose and blocked the way. There were 2000 foot cliffs, dramatic waterfalls, and fog.
They then went south to visit the Tablelands. This is an area of the exposed earth mantle, unique in the world, where the ocean floor rose up. It is a barren area; nothing was growing there.
Of course, because it was Arni, the presentation was studded with fantastic bird photos, such as Arctic Terns mating in the sky, Wilson's Warbler on its home territory, Boreal Chickadees, much sought after in Algonquin park, but common in Newfoundland.. He had an excellent photo of the Newfoundland subspecies of a Red Crossbill, with a very large beak especially suited for the cones found in Newfoundland.
They visited Cape St. Mary's for a weekend. It is one of Newfoundland's largest seabird colonies, home to common, razorbill and thick billed murres, northern gannets and others, all illustrated with beautiful photos. He had spectacular photos of puffins from a tour of Witless Bay Ecological reserve south of St. John's.
Another highlight was the beach at St Vincent's on the south shore. There is a long stretch of flat beach which has a sudden drop off close to the shore, so the humpback whales are at close range. Arni took 4000 photos of the whale activity. Each year millions of capelins (small fish like smelts) come to shores of Newfoundland and Labrador this to mate. This attracts whales, birds and people. In answer to a question, he explained that the humpback whale is a species of baleen whale. These whales have a lattice of keratin plates hanging from the top of their mouths. This allows them to take in large quantities of water, and the baleen acts as a strain to keep the fish in their mouths, while filtering out the seawater. He had photos of the fish escaping from the whales. The whales are known to herd the capelin together using bubble nets.Then the whales dive and come up from below the concentrated group of fish, for a very large mouthful -very efficient.
He ended the presentation with a group of pink orchids, found in wet areas, familiar to many of us who walk in bogs in Ontario.
We finally had to leave our " little piece of heaven" and face the icy parking lot.
| | | |
| --- | --- | --- |
| | | |
| | | |
| | | |
| | | |
| | Photos by Arni Stinnissen, Dianne Stinnissen, Fern Splichal, and Tanya Clark | |
| | | |
| | | |
| | | |
| | | |