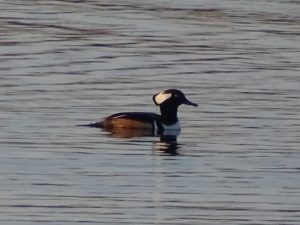 Muriel writes:
As you are now aware , it does not rain every time I lead a walk.
It was a lovely evening , but still quite cold. The old swing bridge at the Narrows was free of snow and a
good spot for watching the activity in the water and areas around.
A pair of Ospreys have taken up residence directly across from the bridge . I'd say this is a very expensive
bit of real estate with food source, wonderful scenery and a very sustantial home.
The bay was crowded with Hooded Mergansers, Common Mergansers, a swimming muskrat, a great flurry of
Red-winged Blackbirds and Bufflehead Ducks. The Canada Geese were beginning to choose nesting sites, one
right below us at the end of the bridge and so camouflaged that it was very difficult to see.
A Mute Swan was cruising along the reeds when three Trumpeter Swans appeared flying in formation to land right beside the Mute. That move caused much flapping of wings and splashing of water, until the Mute decided
to move along.
As we moved up the trail along the ice covered ponds ( no frogs) the Robins were very vocal and a Cardinal chipped its way along beside us. In spite of the cold and the ice ,
Spring is definitely pushing its way along.
Photos from Donald Macdonald and Cathy Bernatavicius
| | | |
| --- | --- | --- |
| | | |
|  Hooded Merganser |  Red-winged Blackbird | |
| | | |
|  Osprey on the nest | |  Common Merganser |
| | | |
|  Buffleheads | |  Nesting Canada Goose |