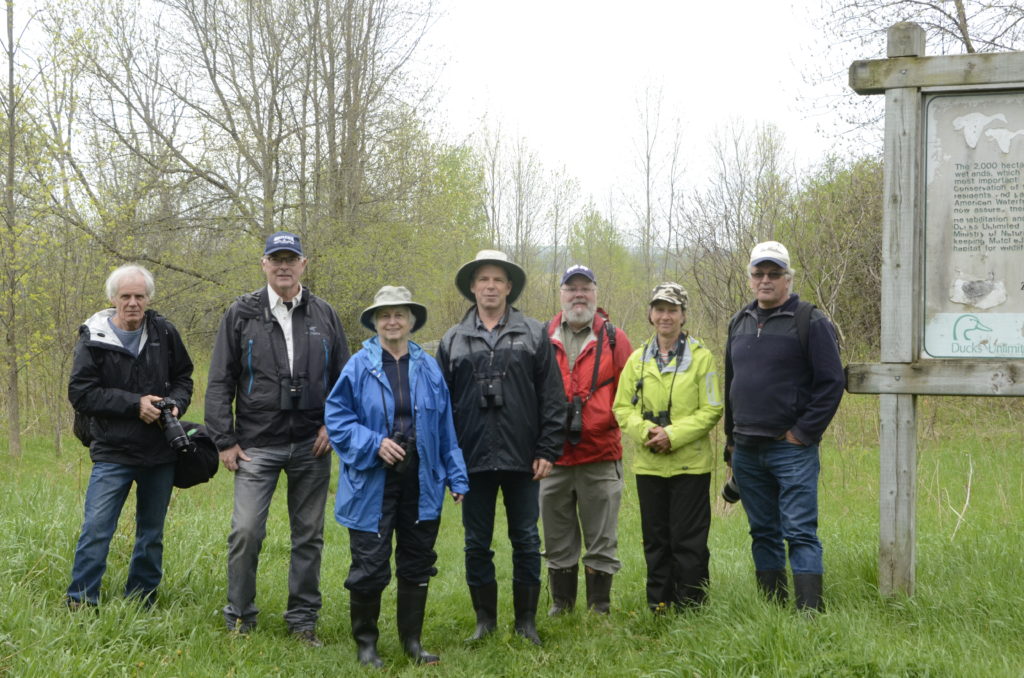 Never trust the weather. With predictions of rain, thunder and lightning only a small enthusiastic group showed up. However, with a 7 am start, we were able to get 3 hours of great birding. Even before leaving the Cowan parking area, Ian Cook, our expert birder and leader, spotted a Golden-winged warbler high in a poplar tree. This was followed by sightings of 10 other warbler species, including Blackpoll, Nashville, Magnolia, Wilson's and Canada. Taking a chance to avoid the wet, rutted trail, we followed a series of outcrops through the bush that produced an abundance of birds. At times the Redstarts, Black and White warblers and Yellow warblers were everywhere. We could have stayed longer in this area and seen many more species but rain clouds were looming. The pond at the east end of the walk produced all the usual list of suspects, geese, grackles, red-winged blackbirds, mallards, wood ducks, swans, ravens, and more. Not far from the pond we spotted a Baltimore Oriole weaving a nest, which definitely warrants a return trip for some photos. As the rain started to fall we made our way back to the picnic area to discuss our sightings. I've attached an eBird link where Ian Cook has listed our sighting of 61 species. https://ebird.org/shared?subID=UzU2NzE2NzM1&s=t
All things considered it was an excellent outing.
Rob Henderson.
Ian Cook also sent us this report:
It was a wonderful trip considering the ominous weather forecast. There were eight participants including myself and Rob.
Winds were light and the temperature pleasant enough. Overcast with a high ceiling and a little very light rain until just near the end of our walk when it started to rain with a little more intensity. We knocked off a little early as a result and did not stay around to have lunch. The bugs were almost non-existent and the leaves were only partially out, making observations a little easier, though the lighting wasn't great especially for the photographers. It was quite wet underfoot.
Highlights included a Blackpoll Warbler singing and showing nicely; ditto for a Golden-winged Warbler. A couple of Canada Warblers were singing nicely and I caught a glimpse of one but they were being very shy. Some Green Herons flew over as did a trio of Common Terns. An American Bittern was booming in the marsh and where Marsh Wrens were singing; one showed himself nicely. We observed a Baltimore Oriole nest-building. American Redstarts, Common Yellowthroats and Yellow Warblers were numerous.
Nice morning out and great company!
Black-and- White Warbler
Blackpoll Warbler
Wild Columbine
 
 
Photos from Joan Nixon
and Howard Black