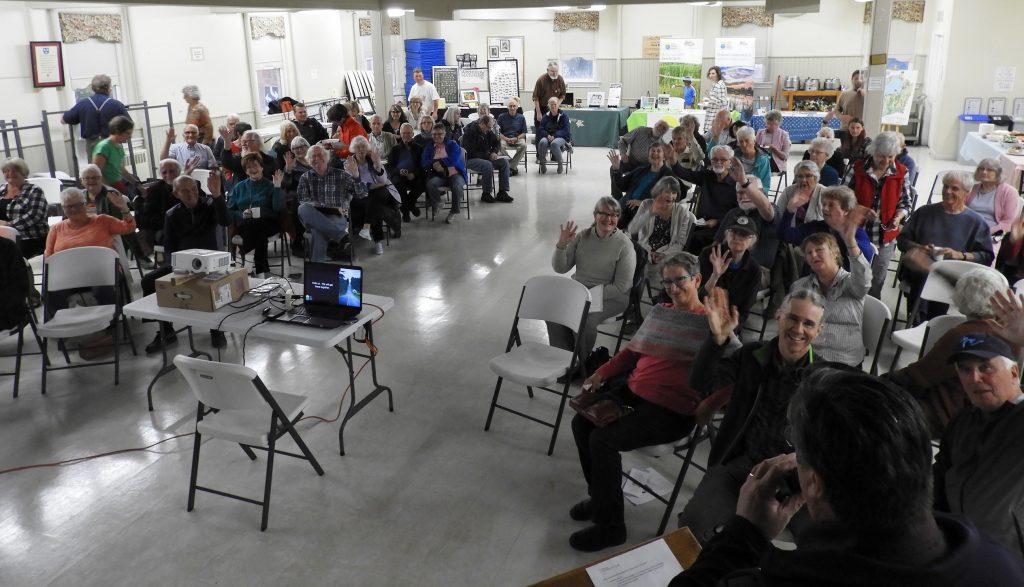 Tuesday, Sept. 10, 2019, the annual joint meeting of the Huronia Nature Clubs was held in St. James' Anglican Church Auditorium, hosted this year by the Orillia Naturalists' Club. We heard reports from the presidents of Nature Barrie, Midland, Carden, The Couchiching Conservancy and Orillia.
All the Clubs are doing well, although there is continued concern for both the Carden Club and the Couchiching Conservancy, about the 1300 acre Cedarhurst property, in the heart of the Carden Alvar which may become a Shooting Range. They have an action plan, ready to implement, if necessary.
Mark Bissett presented a new project "The Black River Wildlands" with hopes of acquiring three new significant properties
We all enjoyed meeting and renewing acquaintances with like-minded people, and we learned of other clubs' recent activities.
After the break, two passionate well-spoken women joined forces to present "Protected Landscapes, a community challenge" and to inform us of the state of Simcoe County and the Lake Simcoe Watershed.
The speakers were Margaret Prophet, Executive Director of the Simcoe County Greenbelt Coalition, and Claire Malcolmson, Executive Director of the Rescue Lake Simcoe Coalition
Margaret Prophet and other similar groups founded the Simcoe County Greenbelt Association (SCGA) in 2015. It has since grown to a membership of 35 organizational members representing thousands across the county. They are an advocacy group who wish to connect landscapes (such as the Greenbelts). They are involved in land use planning – to a business a green
space is something waiting for development.
She was also concerned about the aquifers drying up. We may dislike Red Tape, but it is needed to protect our drinking water.
Claire Malcolmson is the Executive Director of Rescue Lake Simcoe Coalition, an umbrella group that provides leadership and motivates people to take action to protect Lake Simcoe. In 2008 she was instrumental in developing the Lake Simcoe Protection Plan, which is reviewed every ten years- report coming soon.
For example, municipalities must adhere to storm water guidelines, strengthened after the Management Guidelines were introduced.
Phosphorus in the water is a serious problem. The phosphorus levels are just holding their own, but without the legislation the levels would have been much higher, because of so much recent development in our area.
Obviously, the audience was interested in their reports and in learning how much has been accomplished. and how we can help.
| | | |
| --- | --- | --- |
| | | |
| The speakers |   | Marilyn introducing the speakers. She did a fantastic job of organizing this meeting |
| | . | |
|   | The Carden trio set the happy mood of the meeting | Bee City-in Orillia, Severn and elsewhere |
|   |   |   |
|   | Photos thanks to Tanya Clark |   |
|   |   |   |