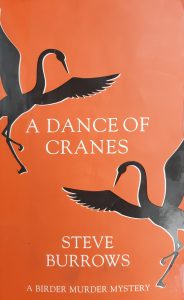 This book was chosen by Marilyn Clark, our Vice President
A DANCE OF CRANES: A Birder Murder Mystery By Steve Burrows .
This sixth book (published in 2019) in the Birder Murder Mystery series was intriguing from the start. It is set on two continents and there are two intertwined storylines. One features some of my favourite things; Canadian wilderness, paddling a remote moving water river and birding. When his brother is reported missing in Wood Buffalo National Park, Inspector Domenic Jejeune must follow the migration route of Whooping Cranes to find Damian. A seemingly chance encounter with a stranger needing a lift adds more intrigue to this story. Survival is not guaranteed in a northern wilderness national park. A description of the risks and precarious nature of rescue in the far north is told with nail-biting accuracy. The other storyline occurs on the other side of the pond, where the Inspector's estranged girlfriend is in grave danger and a colleague attempts to protect her from a sociopathic killer. Someone is watching and following her, she is dealing with politics at the police station and a former criminal bent on revenge unexpectedly offers help – but can he be trusted? Nothing is straightforward when you are dealing with emotional entanglements, a sociopathic killer, the changing patterns of migration routes, and the nuances of Dene culture. This book was a great read!
It is available through Amazon, also at the Orillia Public Library, and many club members have the set of all 6 books and would probably be willing to lend them. Overdrive has the first 5 books, but not the Dance of Cranes.
Thanks Marilyn for recommending this book.
The June Nature book of the Month is recommended by Mary Mick, Life Member, and she will be reviewing "Inheritors of the Earth" by Chris Thomas.