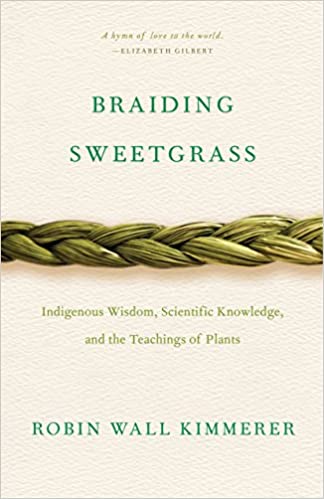 Kyra Howes of the Nottawasaga Conservation Authority and a long time friend of the ONC and the Couchiching Conservancy sends us this report;
Braiding Sweetgrass is very aptly named since this book interweaves stories of Indigenous culture, science and botany, and personal stories.
The author, Robin Wall Kimmerer, is an excellent storyteller and each of the 30 or so short stories transports the reader along with her on her journeys. She writes passionately, but not whiney, like a lot of environmental authors. She is authoritative, but not condescending. She speaks honestly about her challenges to find her culture, but in a way that is meant to teach. I generally prefer books about nature and ecology and I don't generally delve into books focusing on culture, let alone Indigenous culture. Kimmerer combines the familiar aspects of botany into stories of Indigenous culture in such a way to make them familiar and relatable. Some of the stories also include new tidbits of information about plants and ecology, which is always fun.
The first story was about Skywoman, a celestial being who fell through the sky who began humanity on the back of Turtle Island. This isn't my usual type of read, but I was glad I persevered, because the following story, about her.  She is a teacher by profession, but it's the fact that she is always a willing student that is most engaging. I don't have a lot of time to read, so if I read a book, it has to be a good book, and this one was worth it to me. 
Heather Ewing tells us that there is a hard copy at the Orillia Public Library, as well as an eAudio book. Thanks Heather.