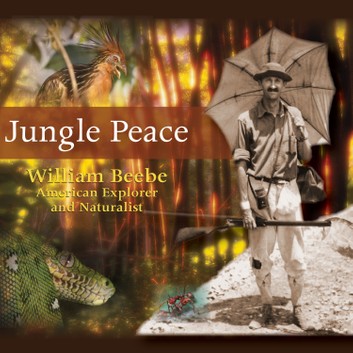 Nancy Ironside, ONC member, has reviewed Jungle Peace by William Beebe.
When Jungle Peace was published in 1918, Theodore (Teddy) Roosevelt wrote a Book Review, published in the New York Times.
He advised all who love good books, very good books to get this book of Mr. Beebe. And so do I.
Mr. Beebe, he says, was a good writer, a trained scientific observer and an adventurous traveler. And so do I.
This book was written when the writer's soul was sick of the carnage of World War I, which had turned the soil of Northern France into a red desert.
His mission to British Guiana was to establish a Tropical Research Station, where we might learn at first-hand the lives of the wilderness creatures. The New York Zoological Society sent him to collect specimens for northern museums. He says he will, without hesitation, shoot a bird as she sits upon her eggs, if he can thereby acquire desired information.
It is jarring to us when we read of him "taking" (shooting) a bird, and realize his gun is as important to him as his binoculars, but this was 1918. More modern naturalist, such as Jack Miner, once revered, is now a byword for a misguided effort. Now we have dedicated naturalists changing whole habitats with machinery and pesticides, with unknown unintended consequences. Maybe Beebe actually was less destructive.
He tells us of an excursion to see colonies of Hoatzins . He considers the Hoatzin is the most remarkable bird living on earth today. For three miles they drifted, in a boat, past perched birds, and birds on nests, always over the water, mostly 6 -15 feet above the water. He describes a young bird who dived into the water from the high nest. When the danger passed, after about 15 minutes underwater, the little bird climbed high, back to the nest, using its skinny two fingered mitten arms.
He says "To see a tiny living bird duplicate, in a few minutes, the process that evolved through uncounted years … is impressive beyond words". The full story is fascinating to read. You may want to see hoatzin photos on the internet. 
It is wonderful to read of his walk along a trail in the moonlight;
of his account of the sleeping parlor of the Morpho (iridescent blue) butterflies;
of the gleaming of a tree due to hundreds of glowing insects, clustered together in candelabred glory .
Read the book and escape to a different world for awhile; a book full of adventure and natural history.
This book is available as an e-book, or on Amazon as a used book. The Orillia Public Library does not have a copy.