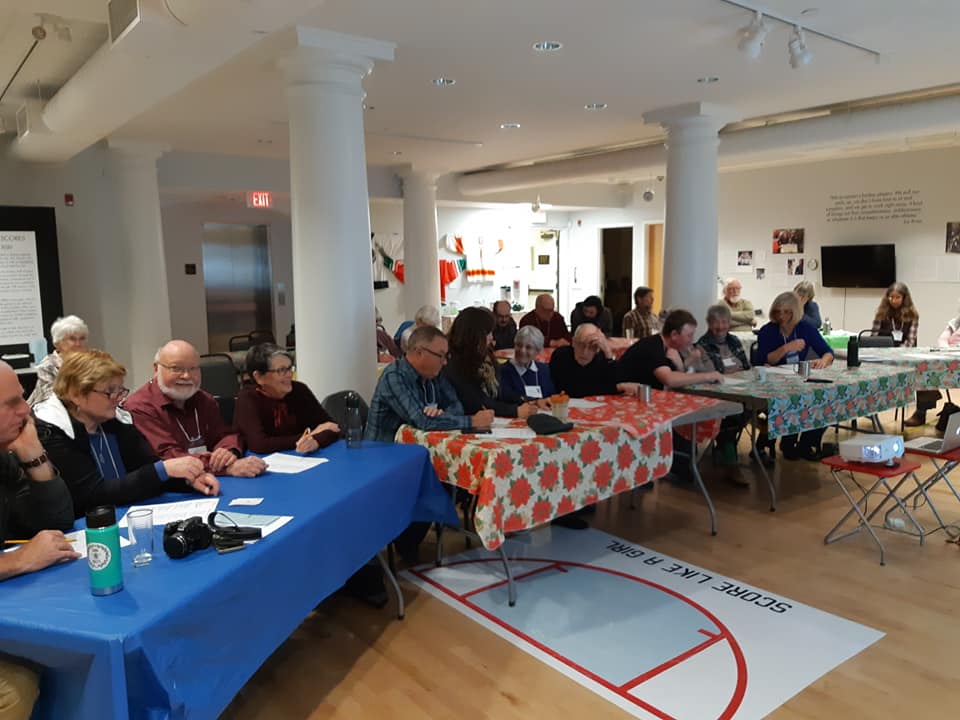 On March 4 at the Orillia Museum of Art and History, the Orillia Naturalists' had its second annual Quiz night – again a fun time, lots of laughs and we learned a few things.
There were 28 people, divided randomly into 7 teams, (as well as the three organizers).
Sue Deadman, Denis Paccagnella and Nancy Ironside organized the Power Point, using photos from the Margo Holt collection. Denis, the MC, kept it fun, and Sue kept us moving on, as she watched the clock. Sue also told us interesting facts about some of the photos, after we learned the answers. For example, The Giant Water Bug is unable to hold it breath under water, but it has, spiracles, like straws, which are able to tap into the air trapped under its wings , or Water Smart Weed which has been used for years in Britain to clean up mine sites, (the process is called Phytomining), and it may be used here to try to clean up polluted sites.
There were 7 categories: Mammals, Ferns, Herps, Aquatic Plants and Fish, Butterflies, Insects and Spiders, and Birds, as well as 3 challenging slides, for 3 Bonus Points each. No one recognized the ugly young Common Grackle in the nest, so no one got those 3 points.
First there was the set up, with the teams clustering together at tables, then the teams received pages of answer sheets, but there were several answers on the sheets, that were not in the slides. Then there was ¾ of an hour of concentration and murmuring among the teams, then the excitement when the answers were revealed.
The most honest team got fewer than 30 points, so they were given the first choice of prizes
The top team had 42 of a possible 51 points, and so had second choice of prizes.
A 3rd team got the Red Herring award (Rauour Herring), in honour of the species names on the answer sheet which were not represented by photos. All 4 took home a can of sardines.
Everyone left happy and smarter.
The photos are thanks to Marilyn and Tanya Clark and Sue Deadman.
| | |
| --- | --- |
|   |   |
| | |
|   | Denis handed out cards for the random selection of the teams |
| | |
| Ready for the challenge | Looking closer |
| | |
| Denis handing out the possible answer sheets | Some of the prizes |
| | |
| Sue told us an interesting fact about a species from a photo on the slide | Deep concentration |
|   |   |