Welcome to our website! Our 2023 program is now available.​
---
​Wednesday, January 4, 2023                 7:00 p.m.​
COSTA RICA – THE LAND, PEOPLE AND BIRDS​
Ken Vogan, Biologist, York Simcoe Nature​
An intimate exploration of a magical country where you will meet the people, visit volcanoes, beaches, rainforests, and cloud forests, as well as share in the beauty of a selection of the birds  found there. ​
---
Sunday, January 22, 2023 1:00 PM​
Outing: SNOWSHOE​
Join Carol Strickland for an afternoon trek to enjoy the beauty of a winter wonderland. Location to be announced.​​
---
Wednesday, February 1, 2023                 7:00 p.m.​
BUTTERFLY COUNTS OVER 25 YEARS​
James Kamstra, Senior Terrestrial Ecologist, AECOM​
Butterfly counts in Ontario help track changes in populations and distribution. James will bring us up-to-date on the 2022 significant decline in butterfly numbers and discuss how we might help.​
---
Saturday, February 11, 202310:30 a.m.​
Outing: WILSON'S FALLS TRAIL BRACEBRIDGE​
Join a walk/snowshoe on this pretty out-and-back trail which follows the Muskoka River and features a waterfall. Ice/snow grips on boots recommended.​
To carpool, meet behind Zehrs at 10 a.m.​​
---
Wednesday, March 1, 2023 7:00 p.m.
Lynn Holden, World Heritage Sites​
Over the course of the past 40 years, Lynn Holden travelled the country and visited all 20 Canadian World Heritage Sites. Then she sat down and wrote a book about them. Holden, who lived in Victoria Harbour before recently moving to Horseshoe Valley, started her unique journey in 1982. There are currently 20 sites designated in Canada with four in Newfoundland, three in Nova Scotia, two in Ontario, five in Alberta, one in the Yukon, one in the Northwest Territories and one in B.C.
---
​We try to keep the website up to date with events and activities as regularly as possible, but please make sure you are on our email list so you receive notices. Email us to be added: orillianaturalists@gmail.com
We are meeting via in person and Zoom, and meeting details are sent via email. The events are also posted on Facebook as well (not necessarily as an 'event' – sometimes just as a post). Connect with us on Facebook, where we share sightings, local news and how to help protect our environment.
https://www.facebook.com/orillianaturalistsclub
—————————-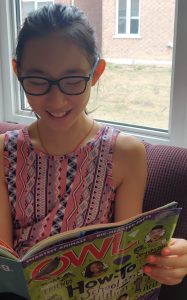 Nature Book of the Month

The Orillia Naturalists' Club is excited to announce the Nature Book of the Month Program!
And we need your help to make it a success.

We will be highlighting a new book every month that is nature-related and sharing with club members. The posting will include the book title and author, a short review (no more than 400 words please) and information on where the book is available.
The review will be found on the 15th of each month under activities.

We are looking for volunteers who have read (or will be reading) a book to contact Nancy (nancy.ironside@sympatico.com ) to coordinate the timing of the recommendation and review and answer any questions you may have.

We will try, if possible, to give some notice of book recommendations upcoming so you can join in by commenting – like a virtual book club.
.
The March Nature book of the Month is Nature's Best Hope, a new approach to conservation that begins in your yard, by Douglas W Tallamy. It is reviewed by Sharon Hancock, long time member of the ONC, and famous for her dinners, (with the help of Ron).
The April Nature Book of the Month is Braiding Sweetgrass: Indigenous Wisdom and Knowledge and the teaching of plants, by Robin Wall Kimmerer. It is reviewed by Kyra Howes of the Nottawasaga Conservation Authority and a long time friend of the ONC and the Couchiching Conservancy. ( look under activities)
The May Nature Book of the Month is The Entangled Life- How Fungi Make our Worlds, Change our minds, and Shape our Future, by Merlin Sheldrake. It is reviewed by Sue Deadman, probably our best all round naturalist . It can be found under activities.
The June Nature Book of the Month is Under a White Sky; The Nature of the Future, by Elizabeth Kolbert. It is reviewed and enjoyed  by Heather Ewing, an avid reader and very active in the Orillia Naturalists' Club.
The July Nature Book of the Month is Underland by Robert Macfarlane. It is reviewed By Mark Bisset, Executive Director of the Couchiching Conservancy.
The November Nature Book of the Month is Jungle Peace by William Beebe. It is reviewed by Nancy Ironside. It was published in 1918, in a different era, but full of adventure and natural history. I loved reading it.
We hope someone will offer to review a book they are reading.

Happy Reading everyone!
At recent meetings, Rob Laidlaw has spoken about Bat Citizen, Mike Burrell about his book Best Places to Bird in Ontario, and Peter Mills about his book -Metamorphosis -Ontario's Amphibians at all stages of development. Since these books have been summarized, under activities, in the meeting's reports, they will not be a future Nature book of the Month.
Find us on Facebook for updates, sightings and more: